It was about five years ago we returned from Brazil thinking that our time in missions was done. Our second missionary venture in Brazil was not a positive experience even though looking back now we can see many wonderful things that happened to us. However, it does not change the unpleasantness of the whole experience. The thing that made it unpleasant was the visa process. We were actually afraid to return to mission because of this. We always encounter some problems with our visa. Many times it was something beyond our control. There was always some paperwork that was lacking which no ones really knows about except for the bureaucrats. It was usually something trivial and they would treat it as if our visa application was completely dependent on it. This is the one thing that makes us nervous. We are not afraid about working in the red light district, even though it is reputed to be one of the most dangerous places in São Paulo. This does not bother us in the least bit, but we feel nervous and insecure when it comes to the visa application process. This is our Goliath. We wish we could find a David to do the battle for us. Unfortunately for us, we have to face him ourselves and God is only arming us with just a sling. I would rather go out with the full armor.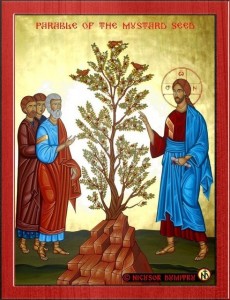 We are applying for a missionary visa that would be enable to stay and work in Brazil for two years and upon the second year, we can apply for permanent residence. This is our intention. This visa is only given to those who have a religious organization in Brazil to sponsor them. We have been waiting for all the necessary sponsorship documents which had taken longer than expected. Now, these documents are finally due to arrive this week. This means that sometime this week we will be heading out to Miami to apply for our visa. Even though we have all the necessary paperwork, it is still nerve-wracking. The scripture that keeps popping into my mind is Luke17:6
"If you have faith as a mustard seed, you can say to this mulberry tree, 'Be pulled up by the roots and be planted in the sea.' and it would obey you."
I use mustard seeds a lot in my cooking. They are an essential ingredient in Indian food. I know that they are tiny and small but it still does not help me. It makes me doubt whether I have any faith at all. I usually handle doubts well until I need to step out in faith. I need to remind myself that I am going into a ministry where young people who are living in seemingly hopeless situations have to take the risk and trust God to face their Goliath. Their Goliath appears to be bigger than the bureaucrats that I need to face. David's victory over Goliath set the pace for his vocation as the king of Israel. We need to face our Goliath, I need to face my Goliath. Our faith can only grow when we face him. I faced him before and even though our past experiences were unpleasant, God still carried us through them. It is not about success or failure but it is about taking the risk and garnering up our mustard seed faith to meet our fears. Please remember us in your prayers this week. God bless.
Please share your thoughts. They do encourage us.