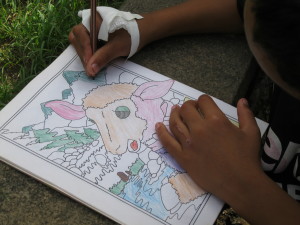 If a picture is truly worth a thousand words, then I would choose the above picture to describe our ministry. The boy is eleven years old. We don't know yet why he is in the streets. He is a new arrival. Mary did first aid on his hands. After which he wanted to stay with us and color this picture. He put away the paint thinner that he was sniffing and sat between us and colored this picture. He found a safe place to be a child again. We discovered in a simple way how God can use us to be His instrument of Love. This is the essence of the São Paul Mercy Ministry. We go to the old center of São Paulo which covers the red-light district and discover ways to be God's instrument of Love to the homeless children and teens. This might lead us to do different things with different children. Each child is unique and the way they feel safe with us might lead them to do a simple activity such as coloring and in some cases they might even have the courage to hope for a better future. Whatever they decide to do with their lives, they need to be surrounded by people who will make them feel safe. Mercy is God's gift to us to make us feel safe in Him and it is only understood when we share this gift. This ministry is just one of the many ways of sharing this gift.
Stephen and Mary Dass
Stephen and Mary are missionaries sent by the Episcopal Diocese of Central Florida where Stephen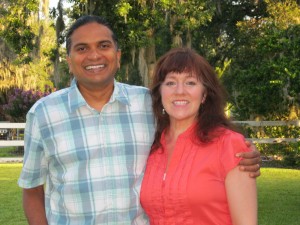 served as an ordained clergy. Stephen is originally from Singapore and served with YWAM ( Youth With A Mission) in São Paulo. Mary was a kindergarten teacher in Maine when she received an invitation by a YWAM missionary to serve as a summer volunteer in Brazil. She took up the challenge and went for a month. She immediately fell in love with the ministry to the street children and decided to return as full-time missionary. We met in São Paulo and have been married since 1995. We spent some time in Maine, the Northeast of Brazil and Florida before returning to São Paulo to do the work that we feel that God has set aside for us. We work in partnership with missionaries from various Christian organizations with the sole purpose of discovering God's mercy in what seems to be an hopeless situation. Our blog postings stem out of our reflections from working with the poorest of the poor. Our diocese put together this simple video and we hope that it will give a better picture of our work in the streets and please free to comment on our posts.
SãoPauloMercyMinistry from Stephen Dass on Vimeo.
For further information, please write to Fr.StephenDass@gmail.com