Jesus said, "Let the little children come to me, and do not hinder them, for the kingdom of heaven belongs to such as these."- Matt. 19:14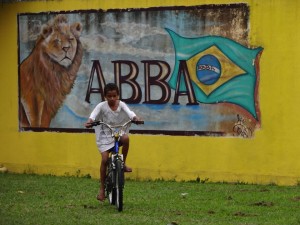 We decided to take a risk. We wanted to take the children out for a day for an excursion.
We work in partnership with another mission called ABBA (not the band). ABBA has a half-way house for homeless children and teens that is due to reopen in early November. The house is different from most of the other houses. For starters, it does not look like an institution. It has a beautiful yard and swimming pool and the most important thing, it has a trampoline. The house is set up to operate as a family home. There is house mother working together with a team of missionaries. Our role is to help the children and teens who want to leave the street life to make the transition to this house. However, most of the children imagine a half-way house to have a prison-like environment. Before we could talk about leaving the street life, we needed to change their image of a half-way house. This was the purpose of the excursion. We were going to spend a day with them in this place. The risk was that we were not sure who would come and of course there is also a danger that those who actually go on this special excursion might be problematic and defiant.
We went early to the streets and most of them were sleeping. We managed to find some of the younger boys awake but these were the ones that were usually aggressive.  We decided to invite them anyway, secretly hoping that they would decline. To our surprise, they were keen on going with us. We set the ground rules first; no drugs of any kind and they need to be respectful. We loaded all five of them in the van and went away for a hour drive to the half-way house. On the way, we passed by the local international airport and immediately these young boys transformed before our very eyes from aggressive drug dealing street kids to children. It seems like God brought to us the very children that needed to go this place.
There were five boys from 10 to 15 years.  There was only one who was 15 and he is João, the very first boy we met in the streets (see post: First day, First Impressions). The rest were Jonas, Caesar, William and Gugu. William has always been a difficult boy in the streets. He always tried to provoke one of the missionaries and this missionary was the driver today. When we got to our location, they dashed out to the trampoline and everyone started going wild in a good way. They were laughing and playing. It was nice to see them behaving like children. I was going around exploring all the fruit trees and William asked me to help him pick some fruits. William got onto a swing and asked me to give a push but he wanted me to stay close. The boys asked if they could spend the night there. We told them that it was a home and not a hotel. They laughed but they understood. They understood that there was a decision to be made if they wanted to live here.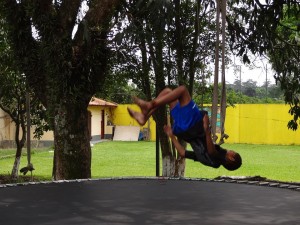 The thing that touched me most was that these young children enjoyed our presence there and wanted to interact with us most of the time. For a moment, they had a glimpse  of what it means to be children in a family. William wanted the adult males to help get on and down from the trampoline even though he could easily do it without help. He wanted to have a father-like figure to help him. We were surprised how much we enjoyed being with these boys who would have been our last choice to take anyway. They were a joy to us this day.
At the end of the day, we explained to them what it means to live in this house. We told them that the reason we are in the streets daily is to help them see that it is God's desire for them to grow up in a loving environment where they can be free to be children. When we asked them what they liked about the day, Caesar told us that it was a drug-free day and they were free to be children.
Our trip home was quiet because everyone was asleep. When we got to the red light district, William was the first to thank us and he hugged the missionary that he had always tried to provoke. Immediately after the children left the van, our friend the driver turned around and said that God surprised us.
It was miraculous day for us. We enjoyed ourselves and we enjoyed the children. We are happy that God gave us this special day. It is a day written in the pages of eternity. We pray for more days like this.